Source If you own a business in 2022, you have to strive to offer personalized customer experiences. With digital transformation, standards increase each year, and people expect more flexible support.
48% of support professionals felt that maintaining quality support when scaling is the biggest pain point, according to Customer Service Quality Benchmark Report 2022.
The best way to increase the efficiency of your contact center is to opt for the help of artificial intelligence. Moreover, 8 out of 10 businesses use at least one contact center AI tool to provide customers with better service, which is crucial evidence that the AI tools are being used more year by year.
This article will help you choose a contact center AI tool that aligns with your needs.
Where did we gather our data?
We researched over 50 contact center AI tools and chose the best based on the following data:
SaaS buyers guides

User reviews from websites such as G2 and Capterra

Comparison articles
We were looking only for contact center AI tools approved by customers and contact center agents. Everyone understands the importance of customer relationship management for every customer-oriented company. Yet, we shouldn't forget contact center employees as well. They are the ones responsible for providing a great customer experience.
Contact center attrition rates are higher than ever, more than 40% per year, and they keep rising. Retaining contact center agents is a priority if you want to reduce friction and cut costs related to hiring new people. The role of contact center AI tools is to empower agents and increase their performance and overall work satisfaction.
How did we rank these contact center AI tools?
We used the following five criteria to rank the tools so that everyone can find a tool that fits their needs:
Reviews: We went through dozens of reviews on specialized user review websites like G2 and Capterra. We identified each contact center AI tool's most common pros and cons that users stated and ensured they were correct.
Pricing: We tried to include different price range tools so that everyone could find a perfect fit. Many tools offer more than one package, depending on the features you need and the size of your contact center.
User experience (UX): Since a contact center AI platform is a tool your team will use daily, it should be intuitive and easy to use. We've chosen tools that can be used by all teams, from marketing and sales to agents in your contact centers.
User interface (UI): We focused on tools with modern-looking and well-organized dashboards. We picked tools with simple desktop and mobile interfaces that provide satisfaction to your employees.
Advanced features: Almost every contact center AI platform can track, record, and transcribe your calls. That's why we identified advanced features unique for every tool on the list, so you can find something that fits your needs.
1. Ender Turing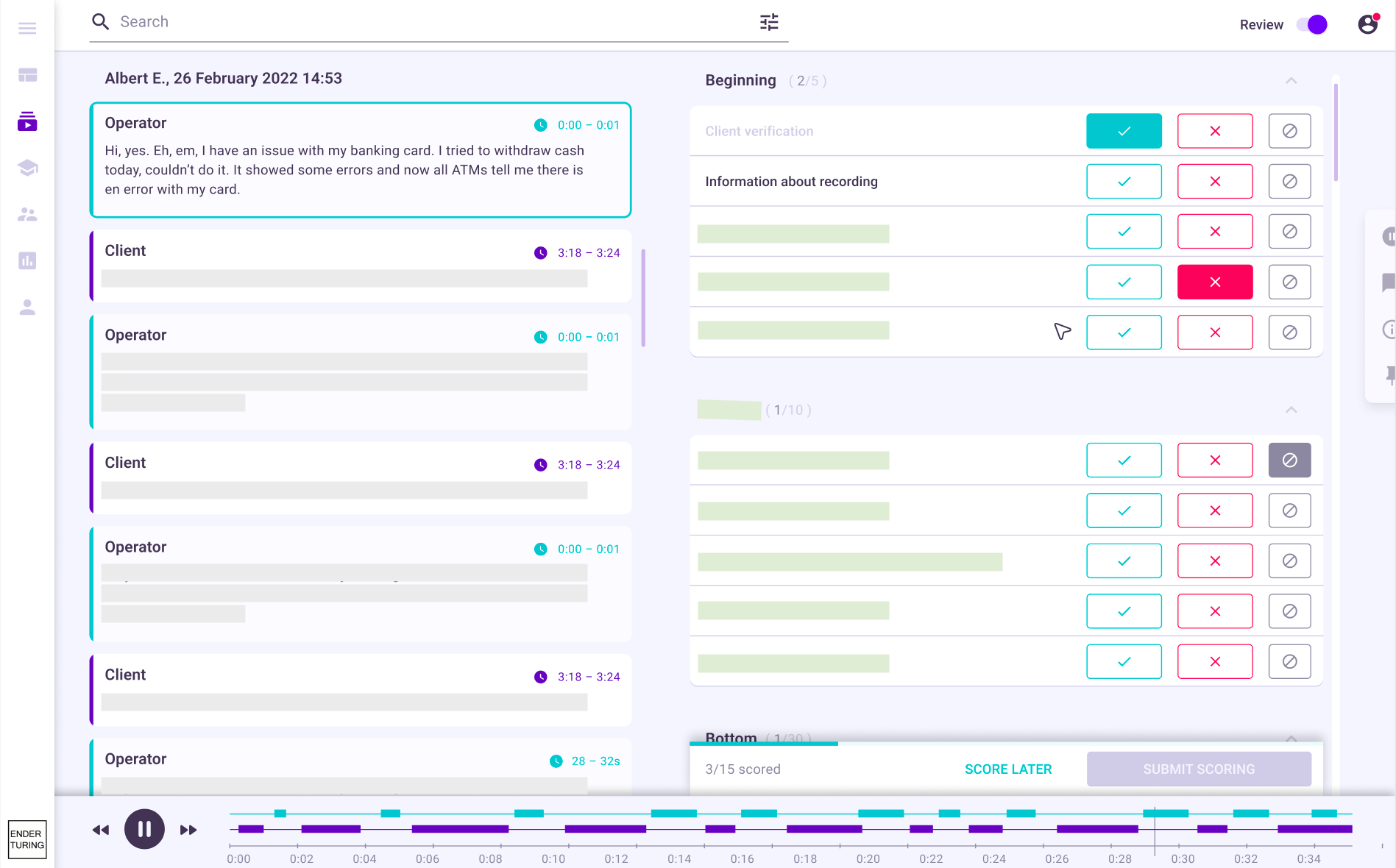 Image source: Ender Turing
Pricing: starting from $39/month per user.
UX: 4.8/5
UI: 4.7/5
Advanced features: Speech analytics, Automated call review and scoring, self-coaching tool, natural language processing, speech recognition.
User review: Konstantin T.: "Ender Turing is a unique partner for us, who not only has a multifunctional solution and experience in enterprise projects but is also open to cooperation to achieve significant business results. With the Ender Turing team, we have been able to create a functional, cost-effective, innovative solution that effectively complements our omnichannel contact center platform." Free trial: Yes, 14 days
Pros:
Advanced speech analytics
Natural language processing
Great for self-coaching
Automated Quality assurance
Event automation
Integration with CRM
Instant search
Root Cause Analysis
Agent tips and suggestions
Cons:
Room for more integrations
Ender Turing solution was developed to redefine your customer care approach in a contact center through lifting the performance of contact center agents.
Ender Turing automatically processes 100% of conversations between agents and customers to extract top performers' behavior patterns and provide automated coaching to all agents best on real examples of top performers.
With Ender Turing, you can set up automated call reviews for 100% of calls, find the root cause of conversation problems, identify your top performers, provide self-coaching best practices to every employee, set up automated emails on events that occurred in conversations.
Ender Turing platform not only identifies top performers in calls and chats but also identifies practices that enable them to score high results. With those insights, you can provide best practices from contact center leaders to each employee and create consistency in customer experiences. That is crucial for quality assurance and when you want to unify sales.
Ender Turing is more than just a contact center AI platform. It's also a learning and coaching platform, making it unique in the contact center industry.
The platform is used for self-coaching and developing individual agents' skills. Your agents get automated personalized feedback after each call, helping them uncover blind spots in communication. For example, high agitation levels during the call or long silences in conversation. You will find data about:
Performance of each agent
Required coaching in a particular part of conversations
Number of complaints
Number of non-FCR calls
Cross-talk ratio
Response & resolution time
Ender Turing is able to build a powerful learning platform for your business and transform contact center into a profit center.
And, on top of this, it supports all European languages in addition to English and Mexican Spanish.
If Ender Turing offer sounds like something you would be interested in, get in touch with Ender Turing by clicking here!
2. CallRail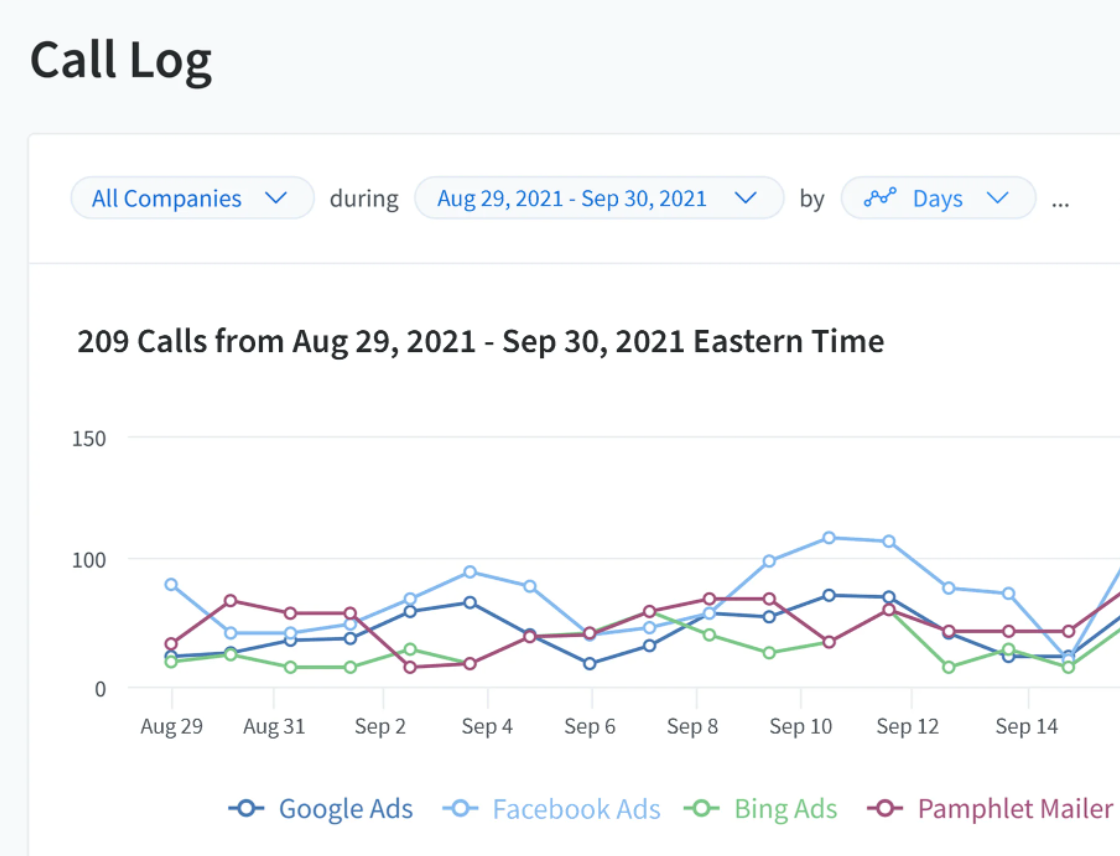 Image source: CallRail
Pricing: Lead center (starting at $30 per month), Call tracking (starting at $45 per month), Conversation analytics (starting at $95 per month), Marketing analytics (starting at $95 per month), Analytics package (starting at $145 per month)
UX: 4.5/5
UI: 4.5/5
G2 Rating: 4.6/5
Advanced features: Conversation intelligence, lead center mobile app
User review: Brett Torrey H. on G2: "So many things: the ease of use, the ability to monitor numbers, integration with Hubspot. We really like the fact that we can track customer contact and review the interaction with the CSR team. It's also a great way to manage numbers on Google ads, landing pages, and other forms of advertising."
Free trial: Yes
Pros:
Great mobile app
Many integrations available
Cons:
No live chat tracking
Reporting could be improved
It can be slower than other tools
CallRail was primarily designed for marketing and sales teams. One of its key features is helping you identify which marketing campaigns convert more than others.
Relying on artificial intelligence, it can match all of your calls and chats to the exact marketing campaign that caused them. It shows you which ad made someone call and which keyword was crucial for the conversion. You can then leverage the keywords to increase your conversion rates.
CallRail is a good option for companies relying on multiple digital channels. It redirects all your calls, messages, website forms and chat support into one unified inbox. It provides you with a better understanding and visibility. Moreover, it's suitable even for smaller companies that may have only one human agent covering all channels.
CallRail is a champion among contact center AI tools when it comes to integration with third-party tools. It is compatible with over 700 marketing tools, from Google analytics to HubSpot.
One important feature is missing, though: live chat tracking. So, if live chat support is one of the primary channels in your contact center, you may want to consider some of the other tools from our list.
3. Gong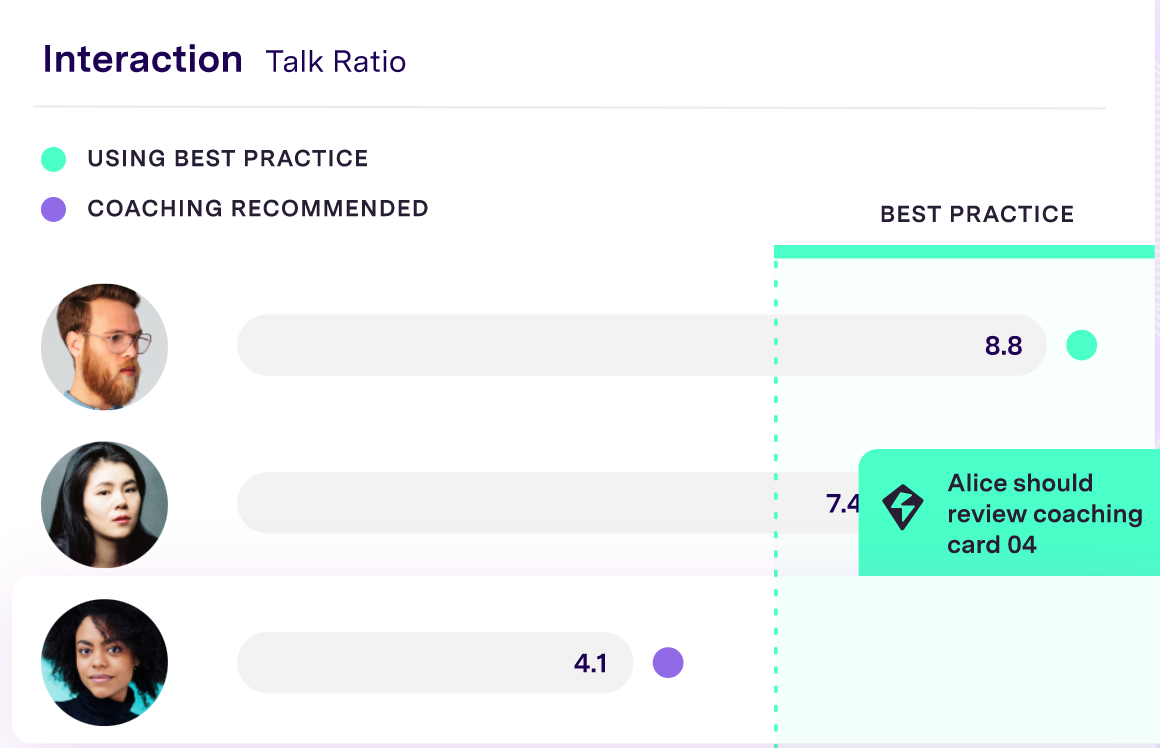 Image source: Gong.io
Pricing: It depends on the size of the team, a custom pricing available upon request
UX: 4.5/5
UI: 4/5
G2 Rating: 4.7/5
Advanced features: Competitive analysis, event-triggered actions
User review: Cherrill H. on G2: "I love that Gong literally captures my whole conversation with a customer and then I can go back, grab any notes I might have missed, take snippets of conversations and send them across my org from different departments and then on top of it analyzes my speaking time versus my customers and on top of it sentiment too!"
Free trial: No
Pros:
Advanced search features
Real-time notifications during the call
Cons:
Transcription could be more accurate
Analytics could be improved
Gong is one of the most popular sales AI tools, but it can be used in various sectors: from contact centers to marketing teams. Gong helps you understand your customers better so your team can improve customer interactions.
It not only transcribes your calls but also categorizes them by different criteria. For example—customer name, sales rap name, keywords mentioned, subject and the outcome of the call. Gong offers a deeper understanding of your customers' problems and requests. Thanks to its advanced search capabilities, you can quickly locate certain topics and issues that occurred during the call.
The tool allows you to understand your sales pipeline and customer journey better and see areas for improvement. You have an overall view of your sales funnel, and you can see precisely where drop-offs happened.
The app allows you to spot red flags early on in communication. It sends you real-time notifications about potential risks. For example, when a prospect isn't answering for an extended period of time or when your team members haven't been active enough.
Gong allows you to make data-based forecasts and avoid potential roadblocks. It helps you create a realistic long-term strategy for your sales and marketing teams.
The only thing that could be improved is the transcription process. Although the tool is getting better, there is still the need for human review—which can be time-consuming. Especially if prospects in your industry use slang and informal words.
4. Medallia
Image source: Medallia
Pricing: A custom pricing available upon request
UX: 4.4/5
UI: 4/5
G2 Rating: 4.5/5
Advanced features: Multi-channel support, data fragmentation
User review: Chrissy G. on G2: "Very easy to navigate & helpful in answering guest/customer complaints. I love the word bubbles. I also love the pre-written apologies that I can make my own."
Free trial: No
Pros:
Captures signals from multiple channels
Real-time alerts during the call
Cons:
Interface could be improved
Customization is difficult
Lack of integration with some other apps
While many contact center AI tools provide you with in-depth analysis after the call, Medallia tracks real-time interactions. The software tracks subtle customer signals that human agents may not always be able to notice.
Medallia enables your agents to act at the moment, fix the mistakes and increase their chances of closing the deal. Since its dashboard is updating in real-time, your agents get alerts that shine a light on opportunities to improve customer experience.
The app has advanced machine learning properties that spot conversation and sales pipeline patterns. These patterns allow you to identify perfect moments for up-selling or cross-selling. All of this leads to increasing your conversion rate and providing exceptional customer experiences.
Now, where does Medallia capture signals from? This tool aims to manage multiple channels at the same time. It captures signals from direct and indirect customer feedback, at every touchpoint, including:
Video calls
Transcripts
Email
Social media interactions
In-app conversations
Tone of voice
Customer reviews
Website contact forms
Medallia can help you increase customer satisfaction by addressing their complaints faster. Call center agents can choose one of many premade responses that can also be customized.
One area where Medalia falls short is customization. It's complicated and sometimes even impossible to make changes in structure and data fragmentation. You have to reach out to Medallia support teams instead, which can be time-consuming.
5. Invoca
Image source: Invoca
Pricing: A custom pricing available upon request
UX: 4.3/5
UI: 4.5/5
G2 Rating: 4.4/5
Advanced features: Loss sales recovery, advanced IVR features
User review: Noah J. on G2: "The flexibility of the Invoca platform allows us to tailor our reporting needs for employees at all levels. From specialists to VP's everyone has a dashboard associated with their login that allows them to see only what is most relevant to them."
Free trial: No
Pros:
Recovering lost calls
Automated call scoring
Cons:
Not possible to make notes
Not the best option for coaching
Some steps are repetitive
Invoca uses artificial intelligence to spot issues and ensure quality and compliance. It automatically evaluates all of your calls, so you can focus more on improving than spotting issues yourself.
You can define your scoring criteria based on your goals and activate automated call scoring. Moreover, immediate access to analytics will help you understand how each agent performs against your KPIs.
The company recently introduced a new advanced feature: loss sales recovery. The tool allows you to tap into your unanswered calls and recover lost sales opportunities.
Since 90% of customers said that immediate response is one of the most important factors when ranking customer experience—the loss sales recovery feature enables you to uncover hidden issues in your contact center:
Issues in your phone system that keeps dropping calls
Malfunctioning interactive voice response
Lack of contact center staff
Fixing these issues can lead to increasing your conversion rate, as well as workforce optimization. Remember that the agents who are satisfied with their job provide exceptional customer experience that will "wow" customers.
Some users pointed out that the coaching and training aspects of the tool could be improved. At the moment, it's not possible to make notes on individual calls, which slows down the coaching process.
| | Ender Turing | CallRail | Gong | Medallia | Invoca |
| --- | --- | --- | --- | --- | --- |
| UX | 4.8/5 | 4.5/5 | 4.5/5 | 4.4/5 | 4.3/5 |
| UI | 4.7/5 | 4.5/5 | 4/5 | 4/5 | 4.5/5 |
| Advanced features | Yes | Yes | Yes | Yes | Yes |
| Free trial | Yes | Yes | No | No | No |
| Cons | Barely | A few | Some | A few | A few |
Conclusion
The best tool for you depends on which contact center AI capabilities you're looking for.
If you're a small business, you might need only a simple tool for transcribing calls. You can go with more straightforward options because you can always upgrade to something better.
Ender Turing is an excellent option to get the most out of your calls by combining advanced speech analytics with machine learning and sales coaching.
Click here to learn more about the solutions we have developed for your business!