One drawback of remote work for some companies or businesses is the lack of understanding of the real workload on each employee. On one hand, some of the team members may not be as productive and engaged as they would in an on-site setting. On the other, according to the McKinsey report, more than 40% of the employees report being burned out. We know employee experience and productivity are as crucial as an exceptional customer experience, as they can either improve or destroy your business. So it's only natural that this is a concern for most companies.
Thankfully, we have tools that can help give real-time insights into the performance of all employees while tracking their growth. With these tools, you can ensure your employees stay at the top of their games wherever they work—ultimately improving customer satisfaction.
This article will review six Medallia alternatives that can help you boost productivity, employee engagement, and customer experience management. If you run a tech startup or are interested in knowing more about the best alternatives for Medallia, then stick around for more deets!
What is Medallia?
Image source: softwareadvice.
Founded in 2001 with headquarters in California, United States, Medallia is an employee and customer experience management platform that leverages AI and Machine learning to capture deep insights and feedback data, which can help you understand and improve the experiences of your customers and employees.
As helpful as Medallia is, it has certain drawbacks. We reviewed what most users had to say about the tool on SaaS review websites like G2, TrustRadius and Capterra. Some users had issues relating to
Cost: There were complaints about Medallia being too pricey when compared to some of its other alternatives
User-friendliness: Some users complained about the tool's steep learning curve, especially for beginners
Being best suited for large enterprises: Some small business owners felt that Medallia was more suited for larger enterprises than small businesses, hence why they opted for suitable alternatives
Difficulty in configuring: People had issues configuring the tool for their businesses
Some features: Some users had concerns about Medallia giving Inaccurate reports sometimes, as well as vague surveys and inaccurate filtering
These and other factors have made people seek other competitors and alternatives best suited for their business requirements and needs. Hence, we are sharing and reviewing some of the best Medallia alternatives for your business.
Criteria for ranking
We will check these tools with the following criteria based on our research and what other users have to say about the selected tools on trusted SaaS review platforms.
Features: The quality of an employee and customer experience management platform depends entirely on its features. To help you understand and manage your customers and employees, you should look for data analysis, automatic speech recognition, machine learning, text analytics, survey templates, and other advanced analytics.
Ease of use: Being excellent in terms of features isn't enough. An excellent alternative should be user-friendly and easy to use, even for non-tech-savvy and beginner users.
Pricing: Every business appreciates affordability, especially startups and small businesses. So price is a significant criterion in choosing the best Medallia alternatives.
User review: We don't just want you to take our word for it, but we also want you to see what other users have to say about these tools. What better way to learn more about these tools than from those currently using them or who have used them in the past?
Customer support: Everyone wants to know that they can get help when the need arises while using the software. Therefore, we factored customer support into our review criteria. We will highlight the support and resources that these platforms make available for users.
Top 6 Medallia alternatives
The list below shows the software we reviewed in this article.
Ender Turing
Qualtrics
InMoment
Confirmit
Birdeye
AskNicely
Without further ado, let's see what makes these softwares the best Medallia alternatives.
1. Ender Turing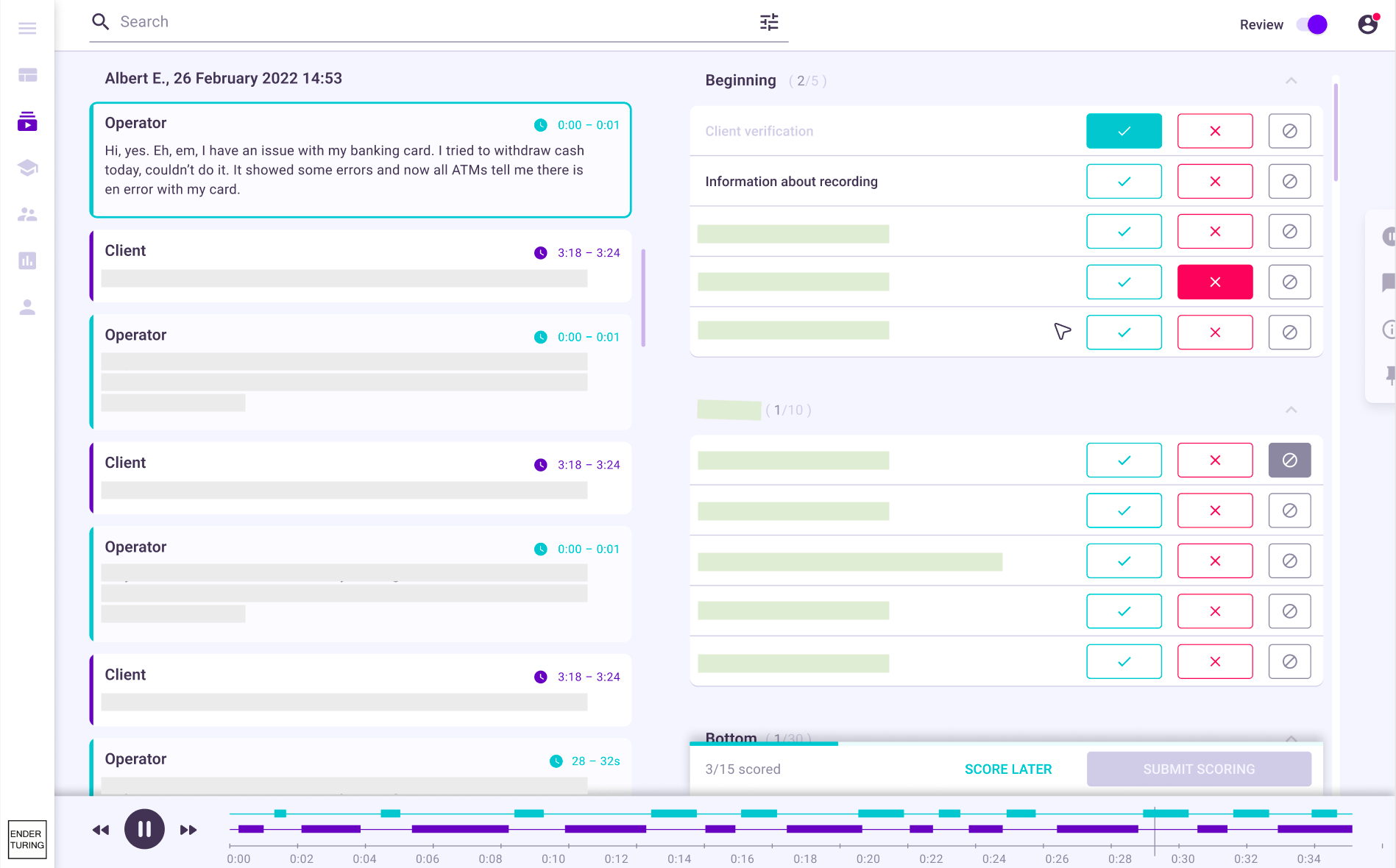 Pricing: starting from $39/month per user.
Free trial: Ender Turing also offers a 14-day free trial for all new sign-ups.
UI: 4.8/5
UX: 4.7/5 Advanced features: Speech analytics, deep learning, performance intelligence, quality management, data analysis Customer support: 4.8/5
User review

Image source: enderturing.com.
Pros
Gives business insights
User-friendly
Real-time reports
Automation for happened in conversations events
Gives you complete control
Saves time
Ideal for self-coaching
Fast onboarding
No steep learning curve for beginners
Third-party integrations
Cons
Room for more features and integrations
Ender Turing is a Contact Center and Sales Team performance management and self-coaching platform that helps to improve the performance and productivity of your sales and customer care teams. Ender Turing uses Artificial Intelligence (AI) and Machine learning to identify and observe performance growth to lead your team to achieve higher sales and better customer service.
Ender Turing analyses all chats, calls, and video meetings to help you identify the best performers, and provides the best practices of their patterns for other employees to learn from. Ender Turing is the best solution for quality assurance, AI scoring for call centers, sales performance, and agent coaching.
Not only does Ender capture feedback, but it also gives you a link to the exact point of the conversation to enable you to uncover the weak points of the agent-customer interactions. The aim of this is to help your team improve themselves and self-coach.
Ender Turing prides itself in helping your sales representatives learn quickly and close deals with every conversation. Ender Turing inspires enterprises to leverage our speech AI technologies to provide exceptional services and sales through text and voice channels. You can take advantage of our 14-day free trial to enjoy the fantastic features of Ender Turing.
2. Qualtrics
Image source: pcmag.com. Pricing: Qualtrics Customer XM ($1500/year), Qualtrics Employee XM (available on request), Qualtrics Core XM(available on request) Free trial: Yes UI: 4.5/5 UX: 4.4/5 G2 ratings: 4.3/5 (336 reviews)
Advanced features: Listening engine, predictive intelligence, survey templates, data analysis User review: Verified user on Capterra: "It is easy to use, easy to learn, and most importantly it is adaptable and customizable." Customer service: 4.7/5
Pros
Easy to build surveys

Third-party integrations

Question templates to choose from
Cons
Not beginner-friendly

Pricey

Customization is complex

Data analysis could be better

Support could be better
Qualtrics XM is an all-solutions experience management tool that encourages companies to improve brand, product, employee, and customer experiences by capturing and acting on their insights in one place. The platform is best known for building surveys.
With Qualtrics, you can get employee and customer feedback by frequently carrying out employee and customer satisfaction surveys. Qualtrics XM has different products and solutions like Customer XM, Employee XM, Brand XM, Product XM, Design XM, and Core XM.
Qualtrics Customer XM Leverages predictive intelligence and analytics with a listening engine to give you a holistic understanding of your customers' experiences so you can take the proper steps and serve them better.
Qualtrics Employee XM helps you gather feedback from your employee to know how best to engage them and boost their productivity. This product allows you to build strong teams. While Qualtrics Core XM is an online survey tool that will enable you to create complex surveys with templates of over 100 question types and embedded data. This product captures and analyses data and also provides actionable insights that you can act on.
3. InMoment
Image source: saasworthy.com. Pricing: Core CX, Enterprise and Custom Plans. All prices are available on request.
Free trial: Yes, 30 days. UI: 4.5/5 UX: 4.4/5 Advanced features: Predictive analytics, dashboard & reporting, program management, text analytics, data management, third-party integrations, survey and data collection G2 Ratings: 4.8/5 (295 reviews) Capterra ratings: 4.6/5 (7 reviews) User review: Francisca D on G2: "The visibility of the data and the easy export. I appreciate the possibility to personalize the questions and follow up questions according to different answers" Customer service: 4.7/5
Pros
Good customer service

Employee management

Helpful integrations

User-friendly
Cons
Customization could be better

Doesn't integrate seamlessly with HubSpot
InMoment is an insights platform that can change the way your company approaches business initiatives. The software takes pride in helping achieve a good customer and employee experience. InMoment is also suitable for market research and user/in-app experience.
This cloud-based software has an active listening studio that allows you to collect customer feedback at every touchpoint; you can also incorporate indirect feedback through social media reviews and mentions.
4. Confirmit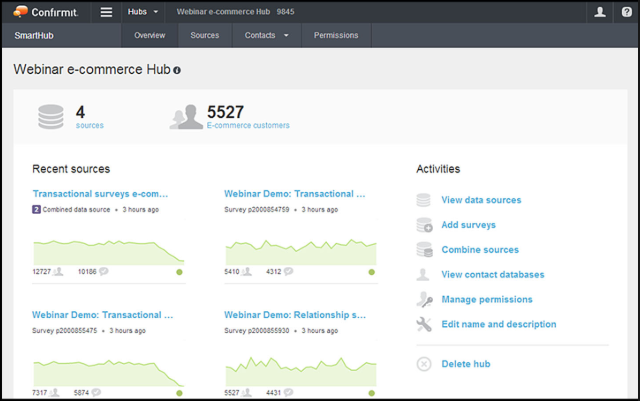 Image source: softwareadvice.com. Pricing: Price available on request Free trial: No UI: 4.3/5 UX: 4.4/5 Advanced features: Feedback & data collection, analysis & reporting, Action management, Third-party integrations, Survey design, Text and social analytics G2 ratings: 4.2/5 (140 reviews) Capterra ratings: 3.9/5 (7 reviews) User review: Kenneth H on Capterra: "It's easy to learn the basics and extremely powerful once you are an advanced user. You can pretty much use Jscript to do anything you need to". Customer service: 4.1/5 Pros
Has customizable functionality

Survey designer
Cons
Reporting functions are not beginner-friendly

Customer support could be better

The tool is complex
Confirmit is an end-to-end visual insights technology suite that can help you transform data into actionable insights. The software offers three solutions — Voice of the Customer (VoC), market research, and Voice of the Employee.
With this tool, you can collect and analyze feedback from customers and employees and use the insights to improve your business. Confirmit good for businesses in the retail and financial services industries.
5. Birdeye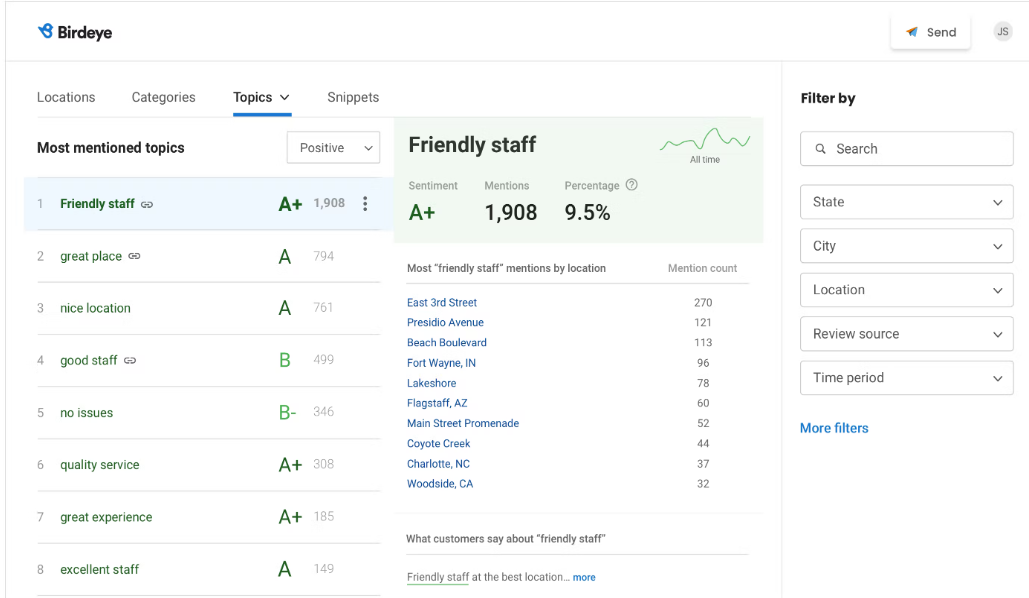 Image source: softwareadvice.com. Pricing: Standard ($299/location/month), Professional ($399/location/month), Enterprise (available on request). Pricing is based on the number of locations and your business requirements. Free trial: Yes UI: 4.6/5 UX: 4.7/5 Advanced features: AI and Machine Learning, augmented analytics, code-free development, Natural Learning Processing, competitive analysis, and customer engagement G2 ratings: 4.8/5 (1443 reviews) Capterra ratings: 4.7/5 (434 reviews) User review: Tara F on G2: "Birdeye is a great tool to streamline daily tasks in my position. Having one place for all reviews for over 100 businesses makes responding to them simply & analyzing them a breeze." Customer service: 4.7/5 Pros
Good price for marketing agencies

User-friendly

Helpful customer support
Cons
No direct integration to Yelp.

The software can be clunky
Birdeye is an all-in-one customer experience software that can help businesses collect reviews, run surveys and get referrals. The tool is suitable for small businesses and enterprises, as it can help them attract new leads and convert them into customers through surveys, ticketing, and insights.
6. AskNicely
Image source: saasworthy.com.
Pricing: Available on request Free trial: No UI: 4.5/5 UX: 4.6/5 Advanced features: Customer feedback and surveys, employee feedback, coaching, and insights G2 ratings: 4.7/5 (831 reviews) Capterra ratings: 4.6/5 (99 reviews)
Pros
Easy survey scheduling

Helpful third-party integrations

Not intrusive
Cons
Can't customize the NPS scoring
AskNicely, popularly referred to as "the frontline success platform" empowers the frontline teams of companies to speed up growth and improve customer experience. AskNicely allows you to collect feedback from your customers through one-off online surveys, which you can integrate easily into your CRM.
Comparison table
| | Ender Turing | Qualtrics | InMoment | Confirmit | Birdeye | AskNicely |
| --- | --- | --- | --- | --- | --- | --- |
| UX | 4.8/5 | 4.4/5 | 4.4/5 | 4.4/5 | 4.7/5 | 4.6/5 |
| UI | 4.7/5 | 4.5/5 | 4.5/5 | 4.3/5 | 4.6/5 | 4.5/5 |
| Advanced features | Yes | Yes | Yes | Yes | Yes | Yes |
| Free trial | Yes | Yes | Yes | No | Yes | Yes |
| Customer support | 4.8/5 | 4.7/5 | 4.7/5 | 4.1/5 | 4.7/5 | 4.7/5 |
| Cons | A few | Some | A few | Some | A few | A few |
Conclusion
We have shared helpful reviews about the best Medallia competitors and alternatives. Ultimately, the decision of the software to use solely depends on your business needs and budget.
If you are looking for intuitive software to improve your Contact Center employees' and Sales Representatives' experience by helping with quality assurance, AI scoring for call centers, sales performance, and agent self-coaching, then you should consider Ender Turing.
Ender Turing can help your business to elevate your sales and customer care teams with the use of Artificial Intelligence. The tool is affordable, with flexible prices to suit your business needs and size. Sign up for our 14-day free trials and give your customers and employees the best experience they can ever get.
FAQ
What is an employee experience management platform?
An employee experience management platform is software that helps businesses and companies discover ways to engage their employees to boost their productivity and drive more growth.
Statistics show that highly engaged workforces increase profitability by 21%, therefore more businesses are actively engaging their employees, to get the best out of them. You can engage your employees through surveys and questionnaires or leverage artificial intelligence to monitor and track their performances.
What is the best Medallia alternative?
Ender Turing is the best Medallia alternative, especially for medium to large corporations that value speed to value and great user experience. Ender Turing helps you identify and analyze the best performance in calls, video meetings, and chats, which you can use as a guide for other employees.
Ender Turing's goal is to help your sales representatives close more deals with every conversation.